"Companies and media agencies have long appreciated the value of advertising to the gaming community, but a recent evolution has opened a new world of opportunity to brands.
Although in-game advertising has rapidly grown to become a $7 billion industry worldwide, the smarter money for brands is on out of game sponsorship eSports, tapping into a thriving and highly-engaged community of 120 million fans.
Electronic sports, commonly known as eSports, are competitive tournaments for professional video gamers – and it's serious business.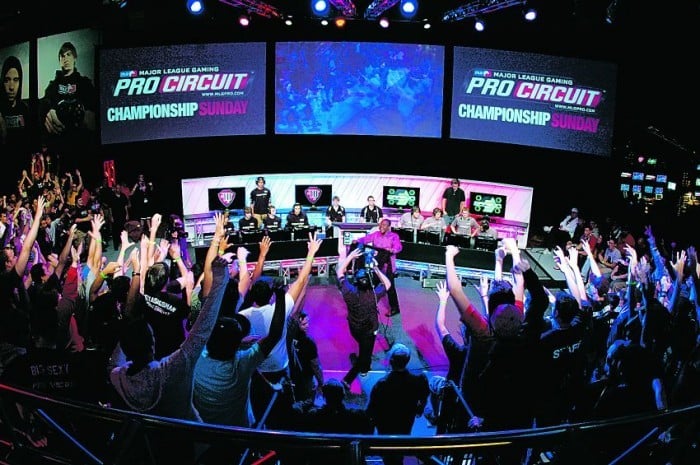 There is a comprehensive calendar of professional video game tournaments across the world with the largest attracting live audiences in excess of 100,000 and offering prizemoney of $17 million. More than 32 million people game regularly, and a fraction turn it into a career, with Korea the leading nation.
The tournaments are regularly watched by fans numbering in the millions on online channels, pay TV and the popular gaming social network Twitch. The most prestigious eSports tournaments have larger global viewing audiences than traditional sports, including the NBA finals.
At present, eSports has few sponsors outside of those that are endemic to the category. In Australia, these include Hoyts, which provides venues, Logitech, which provides technology, and Red Bull, which is known for backing extreme sports outside of the mainstream.
There are also a handful of non-endemic global brand partners, including Coca-Cola and American Express (see below).
Marketing gold
In Australia, eSports has 1.5 million fanatical followers, which is about one-third the size of Australia's most followed sport, cricket, and on par with golf, netball, horseracing and cycling.
Gemba's Andrew Condon, an authority on sports and entertainment marketing, tells AdNews that eSports now provide the "strongest platform" for brands in Australia to market their wares to millennial males, particularly those aged 18-25 – despite Australia being much later to the eSports party than Europe, East Asia and the US.
"It's emerging here (see OPL pictures below for proof), I wouldn't say it is yet established. Organisations like Riot Games are creating leagues and taking what is a global phenomenon and localising it really well," Condon says.
"We saw it coming up in our research about 12 months ago as a compelling marketing proposition and I think it will only grow from here. Platforms like Twitch make it widely accessible, which is often the barrier to a lot of emerging sports."
Condon says brands chasing a young male demo with high disposable income would be well advised to consider backing eSports as it is developing in Australia.
"This is particularly for those who move early and take advantage of being one of the first brands to genuinely get involved," he says. "They will get brand credit and additional advocacy for taking a leap of faith.
"The cost of entry will probably depend on the quality of asset you want to buy, but it will be a far more cost-effective and efficient exercise in terms of cost per thousand than most traditional sports."
This year many brands will jostle for a piece of the Rio Olympic Games pie. In future years, it is conceivable that instead of sponsoring a Usain Bolt, brands could put their money behind electronic superstars like Faker as eSports popularity sits alongside its more traditional counterparts.
Seven snippets about eSports
The origins of eSports can be traced to 1980, when Atari launched a Space Invaders tournament, which drew 10,000 participants in the US.
Riot Games' League of Legends is the top eSports globally in terms of prize money, audience and players (67 million registered). Other popular eSports games are Counter-Strike: Global Offensive, Call of Duty: Black Ops III, HearthStone and World of Warcraft.
The most lucrative event is DOTA 2 The International, with a purse of $17.1 million, dwarfing the Tour de France.
This biggest live attendance was 100,000 people over the three-day Intel Extreme Masters in Poland last year.
The number one gamer in the world, Lee Sang-hyeok, goes by the name Faker. He reportedly earns a salary of between $100,000 to $150,000 and north of $1 million including prize money and endorsements. Chinese telcos have offered $1.7 million in transfer fees and salaries to defect.
The number one ranked country of gamers is South Korea.
Australian professional Derek Trang tells AdNews the scale and level of investment doesn't yet exist in this country for him consider giving up a career in law. He trains 60 hours a week and also coaches budding gamers how to improve on League of Legends."
SOURCE: AdNews